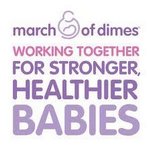 March of Dimes and FBLA are partnering this month to raise funds for healthier, stronger babies. Come join the fun.
Blue Jeans for Babies!
Did you know that the March of Dimes has funded some of the greatest medical advances of the 20th century? Our research successes include:
1950's

The Polio Vaccine

1960's

Newborn Screening

1970's

Newborn Intensive Care Units

1980's

Surfactant Therapy (to help baby's lungs grow and develop)

1990's

Folic Acid

Today

Preventing Premature Birth
More than 4 million babies were born in the United States last year and the March of Dimes helped each and every one through research, education, vaccines and breakthroughs. In an average week in Alabama 1,155 babies are born and 180 of these babies are born too soon and too small.
The Geneva High School FBLA is participating in the Blue Jeans for Babies campaign. We are selling the Blue Jeans for Babie t-shirts now through September 20. For the past 18 years, the Wiregrass Division of the March of Dimes has raised more money than any other division in Alabama. We hope your business will participate and help us continue this tradition in our fight against birth defects, infant mortality and premature births. If you would like to order a shirt and show your support for babies born prematurely, you may contact Stephen Byrd at byrds@genevacityschools.com OR you may go to the FBLA webpage and look under the "Forms" section for the Blue Jeans for Babies t-shirts order forms.

Together, we are saving babies…One t-shirt at a time!